The Nebraska Forest Service (NFS) first approached us to help them reduce redundancies and centralize their data so that they can focus on protecting their natural forest resources and educating their community. In addition to providing resources and training for volunteer fire departments, hosting workshops for the public and offering grants to communities, schools and other organizations that help manage and protect the trees and forests of Nebraska, NFS also tracks the number of wildfires that occur across the state. Many state and federal agencies require wildfires to be reported. And, recording the wildfires as well as the response efforts of the local volunteer fire departments helps NFS coordinate and provide a variety of federal and state grants to those volunteer fire departments.
So NFS came back to the Support Group to help them record and report wildfires. The backend database that drove the website was only accessible by one or two people within the organization and it was disconnected from the main FileMaker application that we had originally developed for them. That app centralizes all of their organizational information and so they wanted to extend that into the wildfire reporting area of their work. In order to do that, we had to replicate and update all of the current functionality of their website.
Detailed & Interactive Reporting
There are two main parts of this reporting app, the external web application and the internal FileMaker application. The purpose of the web app is to allow volunteer fire departments to report the wildfires that they fight as well as to view a summary of the wildfires reported. They also wanted to be able to review reported wildfires over time. A variety of data points are recorded, including the longitude and latitude of the wildfire. Users are even able to drag and drop a pin on an interactive Google map in order to record the location of a fire. TSG created a direct integration with Google Maps that feeds the longitude and latitude information to the backend FileMaker App. Once a fire has been submitted and recorded, the volunteer fire department can review all of the fires they've submitted in a summary report right through their browser. It's a seamless integration of Google Maps and FileMaker WebDirect.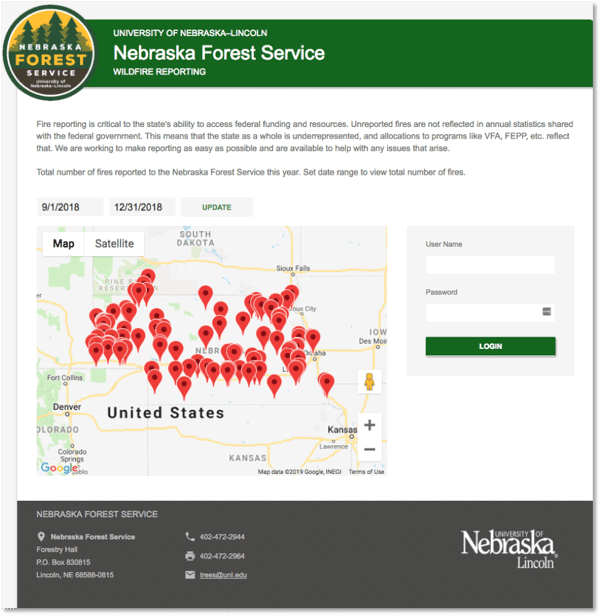 https://snr-1432.unl.edu/fmi/webd/NFS?homeurl=https://nfs.unl.edu/fire
This resource is not just for the volunteer fire departments, but also for the public. Anyone can access the website and view all of the wildfires that have been recorded by NFS over the last 20 years on an interactive Google Map. It's rather illuminating (I couldn't resist).
Working with The Support Group has been great! The switch from our old system to our new system was seamless. Managing wildfire reports internally is much easier now and we've had positive feedback from the volunteer fire departments.
— Joe Stansberry, GIS Specialist, Nebraska Forest Service
The new FileMaker system benefits two main users, the volunteer fire departments and the Nebraska Forest Service staff. The volunteer fire departments have an improved, redesigned workflow that is very user-friendly and reliable as it helps to maintain consistency with the reporting data. For the Nebraska Forest Service, the data is centrally accessible, linked to a variety of other data points within the system and is easy to manage.
This custom application has been so successful that NFS wanted to extend it a bit. We're currently developing a similar, but much simpler, FileMaker WebDirect system for their wildfire prevention reporting needs.
We've developed many different custom apps for our clients, from education enrollment and event management systems to inventory and project tracking solutions. Learn more about some of the applications we've built with the leading workplace innovation platform, FileMaker.