You've got organizational challenges, we all do. Maybe you want to create a schedule to manage your football team, a class roster to track attendance or a portal where parents and students can review assignments and grades. You don't have time to install, learn and deploy a traditional productivity application, much more pay for one.
You might currently manage these common tasks with a disparate group of spreadsheets that you've cobbled together and shared with your team. This sort of worked pretty well when you first set them up, but now expectations have risen and users want different ways to view and interact with the information. Basically, your tool has become what folks refer to as the "spreadsheet from hell." A tangled web of calculations and forms makes it frustrating to interpret and update the data.
What if there was a familiar tool that was intuitive to use and easy to share with others. Does that sound appealing? Well, there is! If you're already using Google's Suite of productivity tools (Gmail, Drive, Sheets, etc.) then you may have access to the newly released Google App Maker. G Suite for Education users can definitely take advantage of this tool.
Google App Maker allows you to create solutions that work and act like professionally developed apps without the trouble of writing boatloads of geeky code. Let's walk you through some of the platform's features and show you why it might just be the thing to help you to freeze that "spreadsheet from hell."
A Simple Example
Let's say we want to create a roster of football players - essentially a contacts list.
1. We start by creating a datasource from a Google Sheet.
2. You don't have to worry about specifying the data type, Google App Maker assigns a type based on the value and format of the fields.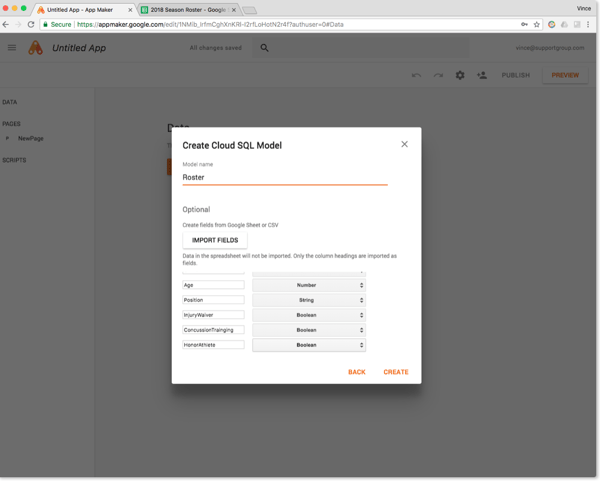 3. Congratulations! You've just created a SQL Database with Google App Maker.
4. You'll want to create a form or page to enter and edit your data and from there you can add details to the data using the preconfigured widgets.
5. There's also a Widget wizard to help guide you as you decide what information you want the form to include.
6. And there you have it, a fancy and professional looking form with several bells and whistles added by the wizard.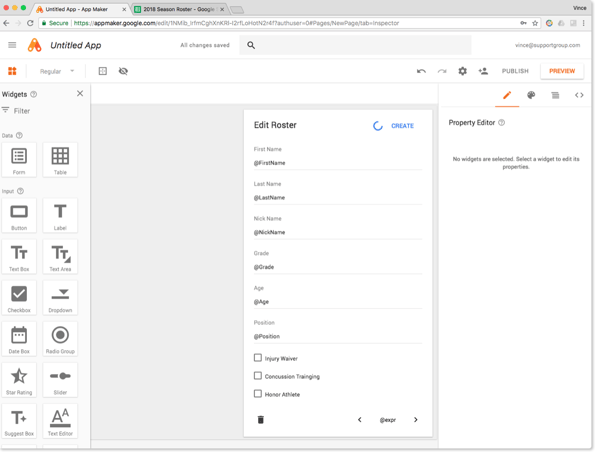 7. Let's add a list of players/contacts using the Table widget.
8. The wizard will ask you to pick the fields you want to display and then ask you to specify the table related options you want to include.
9. We can play around with the design elements, like color and images, to make the form look more attractive.
10. Now let's share it with the team. You can grant access to the app to anyone within your domain using the Publish wizard. Just invite them via their email address and then send them the URL.
11. When they log in, they'll be greeted by a usable and professional-looking app that you created in minutes.
See Google App Maker in action! I'll demonstrate how I created this simple app.
We're exploring the Google App Maker tool and we'll share our insights about its capabilities and functionality as we go. Join our mailing list to keep up with the latest news and information about custom app development tools.