"Where is that field? How do I select the sliding panel behind the portal?"
In FileMaker land, we've had the ability to stack objects since version 1.0. And ever since then, it's also been possible to lose objects behind one another. You have to know exactly where the object is in the FileMaker Layout Objects window and move things around until you can actually click on it with the mouse in order to select it.
The ability to hide objects based on a calculation complicated things even more. Some objects will hide in browse mode, but they stack on top of one another in FileMaker layout mode, which can cause confusion and cause you to select the wrong object.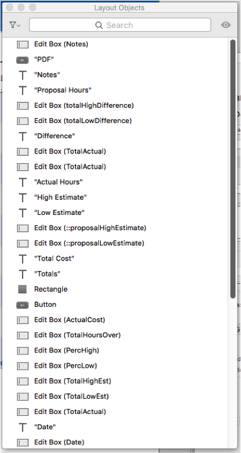 FileMaker 16 simplifies this process. We have a new window, a palette if you will, of the Layout Objects Tree called the Layout Objects Window. It's available only in layout mode and it provides a list of all the objects on your layout - in the order that they are stacked. You can click on an object in this list to select the object on the screen - no hunting required. You can rearrange objects in the z-order (where they are top to bottom on the layout) simply by clicking and dragging the object. Want to select a group of objects? You can do that within the window as well. Want to see just the objects that are fields in this list? Click the "filter" icon at the top and select "fields" and you will get a list of just the field objects.
But wait - there's more! With this dialog box, you can also dynamically show or hide objects as you work with them. Want to only see one object, so you know where it is? You can use the "eye" icon at the top right in order to hide everything except the object you want . Or select a group of objects, and "hide" them so you can see what else is going on on the layout.
(Click to enlarge images)
For years, when building layouts, we've had to decide whether the functionality that we're building is worth the extra complexity in the layout. Now we can stack objects all day long, knowing that we can hide or show individual objects or even entire groups of objects, in order to navigate a complicated layout design quite easily.
Learn more about the new features in FileMaker 16, like the Filemaker 16 card window.