In a former life, I was an administrator at Parsons School of Design where I was responsible for registering 400 students and assigning them to the proper classes. The process was completely manual, but I strongly felt that technology could provide a better way. As a self-taught computer nerd, I introduced FileMaker 3 to Parsons and one year later, I designed and built a digital system that not only automatically assigned classes to all 400 registered students, but also tracked faculty schedules and assigned classrooms. As an added bonus, we stored pictures of all of the students using a very early webcam. I've been using the FileMaker platform with a variety of clients around the world ever since.
From the very beginning, I was drawn to the FileMaker platform because of its high level of customization. In my humble opinion, it's a superior rapid application development tool that can automate any workflow – I have yet to find a workflow that it cannot accommodate. What's more, applications are designed to be dynamic so that they can easily extend, adapt and improve as businesses change because nothing is really static these days.
I find the platform to be very intuitive. I don't pretend to be 100% proficient in FileMaker Pro, but when I have to learn how to do something new, I can usually figure it out. The community of FileMaker developers is massively helpful as well. So when clients nervously ask me to do something seemingly difficult, I commit with confidence.
Working My Magic
I've always been good working with people and troubleshooting problems so I joined the Support Group in 2013. I really enjoy meeting new clients and getting an in-depth tour of their operations. I've seen the inner workings of foresters, art storage and transportation providers, talent agencies and design studios. And the best part is that I get them to help them improve their businesses using the FileMaker platform. It's never a dull moment.
I appreciate a good challenge and so the projects that stretch my skills are easily my favorite. I remember my first big project. It was actually an entire system overhaul of the client's internal processes – talk about organizational pressure! I enjoyed my first big Material Design project where I was able to explore my creativity a bit. But one of the coolest things I've done so far is travel to Africa to implement a system and train its users. The project was professionally fulfilling, but it also allowed me to immerse myself in a completely different culture while helping a great group of humanitarians.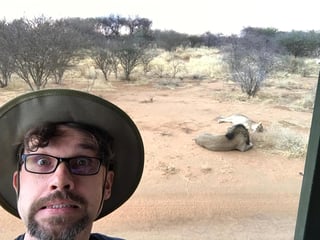 Personal Passions
When I'm not fiddling with FileMaker, I enjoy playing board games (Dungeons & Dragons) and spending way too much time thinking about things like the best spells for my wizard. I am also a writer, currently finishing up my first post-cyberpunk young adult novel.
Feel free to contact me if you're interested in developing a custom application for your business. Or, we can just swap wizarding spells.
Feature Photo by Isa Martine on Unsplash